Discover more from Write More with Simon K Jones
Serialised science fiction stories and articles on how to be a more productive writer.
Over 3,000 subscribers
Fantasies: part 7
After the raid
The Triverse is
Mid-Earth, an alternate 1970s London
Max-Earth, a vision of the 26th century
Palinor, where magic is real
Previously: Two bodies have been found in an alley behind an exclusive, very expensive high-rise apartment complex called The Lighthouse. Detectives Kaminski and Chakraborty are investigating, following a tip from implicated businessman Patrick Boorman that has led them to an east end narcotics factory…
Catch up on the whole story with the exclusive ebook edition by upgrading your subscription
Early shift
On duty: DC Zoltan Kaminski & DC Nisha Kaminski
London.
1974. August.
"I think I'm getting used to having a team of heavily armed cops on call," Kaminski said, leaning on the corner of the building opposite the factory.
Chakraborty threw him a withering look. "Really? Weren't you the one worrying about militarisation of the SDC?"
He shrugged. "Well, sure. But I do like being able to send them in first to clear out the bad guys."
His radio beeped a signal. "All clear, detectives, site secure," came a voice from the tinny speaker.
"That's our cue," Chakraborty said. "Shall we?"
They ventured across the street towards the entrance, as the wide loading doors of the factory began to open up, revealing inside the aftermath of the raid. Conveyor belts had dropped their contents onto the floor, cardboard boxes were scattered everywhere and kneeling on the floor were a dozen or more people with hands behind their heads. As they got closer, Kaminski clocked that the crew was a mixture of humans and aen'fa, none of whom looked happy to be there.
Sergeant Golding was giving order, to his core squad as well as to the additional officers. He saw them approaching and came to greet them. "Detectives," he said, "the building is secure. Workforce is down here, we're just rounding up a couple of back office staff who tried to sneak out the back. Feel free to have a look around." He surveyed the factory floor. "Made a bit of a mess in here, I'm afraid. They all panicked when we came in. Hopefully hasn't messed up your evidence."
"It's all still here, Sarge," Chakraborty said, "I'm sure it'll be fine. If you've got a line to HQ can you call in a forensics team?"
He nodded. "I'll get one of the boys to call it in from the van."
There was an odd smell in the air, catching at the back of Kaminski's throat. Probably from whatever they'd been cooking up in here. Probably be best not to light up, he decided.
A flight of metal stairs led up to an enclosed upper floor, suspended on the gantries at the back of the factory. Kaminski pointed. "Shall we start up there?"
"Seems like Boorman's tip paid off," Chakraborty said quietly as they crossed the floor.
"More's the pity. Was looking forward to turning up nothing and being able to go arrest him instead."
She smiled. "Win-win situation for us, really."
"Yeah," Kaminski said, frowning at a collection of soft children's toys tucked into a corner next to packing crates, their stuffing half ripped out. "Locking this place down probably is better, on balance." He pointed at the toys. "Reckon they were using these to transport the product?"
"Looks like it. Don't want your kid receiving one of those by mistake."
Kaminski grinned. "'Happy birthday, son.'"
"'Look mum, I can fly!'" Chakraborty snorted, then glanced at him with raised eyebrows. "Too soon?"
Kaminski started climbing the stairs. "Probably. Let's see if we can find some paperwork. See how far this goes."
"Follow the money?"
"Follow the money."
At the top of the stairs Kaminski nodded to an armed officer, who was looking down over the captured workforce. A flimsy wooden door on loose hinges opened into the upper rooms. There was a typical office with desk, filing cabinets and tall lockers. A pinboard on one wall with a map of the city marked up in red pen. That certainly looked interesting. "Need forensics to get some photos of this place so we can take that map in for a closer look," Chakraborty said.
Kaminski squinted at the map. There were lines drawn between locations. "This might be distribution routes. Drop-offs. Maybe dealers? Valuable, anyway."
"There's another room," Chakraborty said, pointing to a connecting door.
Turning the handle, Kaminski led them into the adjoining space, which revealed itself as an elaborate meeting room that was considerably better presented than the rest of the building. A large oval conference table stretched the entire length, lined by leather-covered chairs. Drinks cabinets lined the walls and there was a coffee machine in the corner. "Impressive," Kaminski said. "Cut a few deals in here. Amongst other things."
There was a larger, floor-to-ceiling, double-doored cabinet at the far end. It was made of military-green metal. Kaminski walked towards it and looked over his shoulder at Chakraborty. "Weapons, maybe?"
Opening the doors of the cabinet, he was faced immediately with two surprising discoveries. There were no weapons, for starters, but instead shelves of various substances in packets, glass jars and other containers. Kaminski almost didn't notice this, so distracted was he by the aen'fa hiding inside. Letting out an instinctive shout, Kaminski took a step back, colliding with one of the chairs. The aen'fa moved, sweeping an arm across one of the cabinet's shelves and flinging the contents towards Kaminski. He had only a moment to react, shutting his eyes and trying to raise an arm to shield his face as glass containers collided with him, shattering, and paper bags exploded on impact. He was surrounded by dust, some white, some coloured, and he stumbled backwards and over the back of the chair, tumbling sideways awkwardly. The aen'fa let out a cry and burst out of the cabinet, leaping over the flailing Kaminski and onto the conference table. Still trying to find his footing and covered in god knows what, Kaminski could only catch a glimpse of the man as he darted towards the exit.
Chakraborty was across the room next to the drinks cabinet and already had a decanter of something expensive in her hand. Her throw was immaculate, the heavy, square-edged bottle moving in a clean arc and cracking into the side of aen'fa's head. He dropped to his knees, then slid unceremoniously off the table and onto the floor with a thump.
"Nice throw," Kaminski tried to say, instead coughing up a cloud of dust. He pulled himself upright and sat on the arm of the chair, brushing glass from his jacket. "Shit."
"Fuck, did you inhale any of that?" Chakraborty checked that the aen'fa was unconscious. "Get in here!" she shouted in the general direction of the officer on the stairs, then moved over to Kaminski. "How do you feel?"
"Kind of OK, actually," he said.
Chakraborty picked up a shard of one of the bottles that had shattered over him and turned it over carefully. "Any idea what this stuff was?"
"I think a bit of everything," he said, wiping his face with the back of his sleeve. "How do I look?"
"Like you had an accident with some flour. We need to wash that off you."
He stood up and brushed himself down. What a mess. Worst of all, he was covered in what would likely have been important evidence. The cabinet still held shelves of other containers, though, so hopefully there would still be something of use. "We might need forensics to take a look at all this," he said, gesturing at himself, "before we clean it off." Stepping closer, he peered into the cabinet. "Look at all this. It's not all the same stuff. They had a whole franchise going on here." The contents of one of the bottles caught his eye: it was a brown-glass medicine bottle, like a child's cough medicine, complete with a metal spoon set to one side. There was a liquid inside, rather than a powder, and as Kaminski looked he could see through the glass to the sediment and particles floating. It was a dense liquid, he could tell, viscous with an almost gelatinous texture. The bonds were strong and it wouldn't take much to compress it into a solid. He should examine the other items, compare their molecular composition, perhaps be able to derive what they were.
Kaminski blinked.
"Let's keep this cabinet closed and ready for forensics," he said, closing the doors. He turned to Chakraborty and was overwhelmed by how happy she looked. Gone was the tired, sleep-deprived and alcohol-fuelled woman she'd been for the last year; instead she was glowing, vibrant, her eyes glinting like when he'd first met her. Even the way she dressed revealed a person who had moved past her demons. Their kitchen was looking great: the dining table in the centre, a drinks cabinet to one side. The view out of the windows was as breathtaking as ever, looking out over the expanse of Max-Earth's London skyline. They had a flying car parked in the garage.
"Love you, Nisha," he said, stroking her face.
Everything had worked out just fine.
Chakraborty caught him as he fell. Foam frothed from Kaminski's mouth and his limbs convulsed, his back arching. He was going to bite his own tongue in half. She laid him down gently on the ground, kicking the chairs away to give him space.
The police officer had entered through the door. "What's happening?" he said, kneeling down to check the aen'fa.
"Got attacked by that one," she said. "DC Kaminski's taken a face-full of a cocktail of god knows what."
"Christ," the officer said, clicking down the button on his radio. "We need medical support ASAP. Repeat, medical assistance required on the upper level immediately."
She rolled him over into the recovery position. He was still in the midst of the seizure. Presumably this wasn't what 'magick' was supposed to do, but then he'd probably got it mixed with whatever else had been in the cabinet. Plus, there was always the chance for an anomalous reaction.
Grimacing, she held his hand lightly and stroked his face. What a goddamned year. Nothing ever worked out for them.
---
Thank you for reading!
It's been a busy week. A week-or-so back I received a bunch of author copies of No Adults Allowed, only to discover that the cover's spine was misaligned. The error was slightly different on each copy, more noticeable on some than others. Take a look: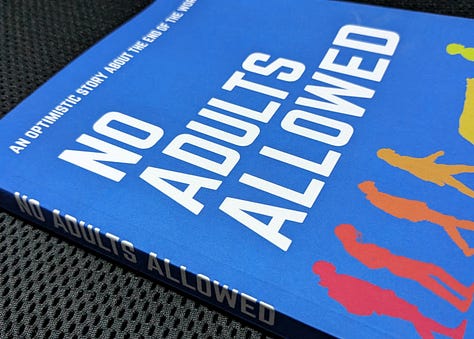 Ick.
All proof copies and previous author copies I'd received were completely fine, so this batch was a weirdly anomaly. Hopefully it was a one-off, and I really hope that no readers ended up with a wonky version. I've now adjusted the design of the cover to make the spine text a little smaller and repositioned, which should avoid this problem in the future even if the printing at Amazon's end goes awry.
From the discussion on Notes, it sounds like this isn't entirely unusual:
I've also been doing some interior book design! For No Adults Allowed I used Reedsy's online designer, which was very quick and easy. It produced a really high quality result, but part of me always wanted to figure out how to do it properly. As such I've been designing the interior for someone else's book using Affinity Publisher. So far, so good. Great program (it has a wonderfully tactile interface to placing elements), and I might talk about the project itself in more detail down the line.
It's safe to say that I was a little nervous about Monday's newsletter. Here it is again in case you missed it:
The reaction has been wonderfully positive. As I should have expected, really, given that the community that's grown up around this newsletter is 💯 the best thing about it. Thanks to all of you for always having such excellent insights.
Finally, I'm thinking about moving away from using BookFunnel for giveaways. You'll probably have noticed occasional links out to ebook giveaways, which have always been really useful for me in the past and a great way to reach new readers. There seems to be diminishing returns from BookFunnel promos, perhaps due to the diminishing of social media in general. It's just harder to get the word out about that kind of thing now.
BookFunnel isn't free, and I'm not sure it's worth the investment anymore (even though it's quite small!). I'm considering whether to put that time and money into exploring other ways to find new readers. I'll keep you posted in case I find out anything useful.
Talking of running a newsletter,
shared a fantastic list of tips over on Notes which chime almost exactly with my own experience. Highly recommended reading:
Author notes
Right from the start I knew I wanted Kaminski to accidentally end up under the influence. I hadn't quite decided what would happen, though. I'd established in the first couple of chapters of 'Fantasies' how the drug works, so Kaminski's reaction had to be in line with those rules.
I pondered various highly dramatic responses, but in the end settled on what we have here: a moment of micrology as he examines the contents of the cabinet, followed by a visualisation-powered flight of fancy as he conjures an imaginary life. If Kaminski really did have visualisation wielding powers, then Chakraborty would have seen the vision as well - alas, in this case, it was all in Kaminski's mind. I thought there was something quite touching about how mundane his vision was: two happy people hanging out in a kitchen. It's the kind of quite, dull life Kaminski would quite value - although we could debate whether that's something Chakraborty would be interested in.
If you only started reading recently, or need a reminder, this bonus post from 2021 (🤯) is a good primer on how magic works in Tales from the Triverse:
I did some work on the big over-arching plot this week. Which made me realise just how close we are to…really big things happening. The overall pacing of Triverse is unlike anything I've written before, because it is structurally far more episodic than my previous projects. The Mechanical Crown was similarly large in scope but was structured much closer to a traditional novel. Triverse hews much closer to the shaep of a television serial.
In theory you could remove half of the stories and simply get on with the main plot. But I think that would miss the point and some of the real strengths of the serial as a form. We get to exist in the lives of these characters, and it doesn't have to all be major plot beats. That's what modern serials on Netflix and Disney+ seem to miss: they're so obsessed with the core plot that they often lack depth, and everything feels superficial. It's why a lot of the Marvel and Star Wars spin-offs feel like deep dives into lore, rather than proper stories.
Anyway, I was slightly startled and excited about where we're at in the overall Triverse story. Can't wait to share it with you all.
If you know someone who might enjoy Triverse or the Write More newsletter, do pass it along: